WHEELIE GOOD WOOD
Once in a while a Wheelie Good Idea comes around...
We sell Wheelie Good firewood in wheelie bins to the Greater Melbourne & Mornington Peninsula Areas. 
Our firewood is dry, tidy, requires no stacking & is easy to move around. 
We offer Free Delivery to Residential and Wholesale customers within 20km of Melbourne; check our Delivery page to see our delivery schedule and charges.
order Wheelie Good Products
Wheelie Good Offers
SENIORS SPECIAL
Email a copy of your Seniors card and you will get access to our special price list.
Send us a copy of your seniors card

REFER A FRIEND
Let your friends know about us and they get $5 off their first order and you get $25 for every successful referral
Start referring now

VOLUME PRICING AVAILABLE
The more you buy the bigger the discount
See All DIscounts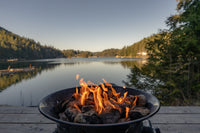 Need help starting your fire?
Have a look at some of our helpful guides to help you start a safe fire to keep you warm or to cook with.
How to Guides
FESTIVALS, FUNCTIONS AND EVENTS
Did you know we can deliver to Showgrounds, Docklands, Sidney Myer Music Bowl
More Information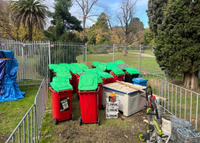 Why Choose Wheelie Good Wood?
🔥 Don't lug around bag after bag of wood—upgrade to convenience with our Wheelie Bin Full of Firewood! 🔥
Tired of carrying multiple bags of firewood for your cozy nights? Say hello to the smarter way to stock up on wood! Our Wheelie Bin Full is equivalent to approximately 7 standard bags of firewood, offering you more warmth and comfort with less hassle.
🌟 Benefits:
🔥 Equivalent to around 7 bags of firewood in one convenient bin!
🛒 Say goodbye to multiple trips to the store.
🚚 Easy delivery right to your doorstep.
♻️ Eco-friendly and efficient.
Get your fires roaring and your evenings cozy without the extra effort. Order your Wheelie Bin Full of Firewood today and experience the convenience you deserve! 🌲🔥
Testimonials
Unbelievable service and a clever way of dealing with wood deliveries. Ordered 11am, delivered to my door in Port Melbourne by 3pm. Very good price and top quality wood for my parilla.

Andrew
Very quick delivery, amazing quality wood. Kept us warm on chilly nights. Thanks team.

Nick
Just too easy.All I do is get on the site and then the wood arrives, don't even have to be home.All nicely stored in a 240l bin.And as the weather warms up I can get the bin filled just as easily with compost or mulch.

Al